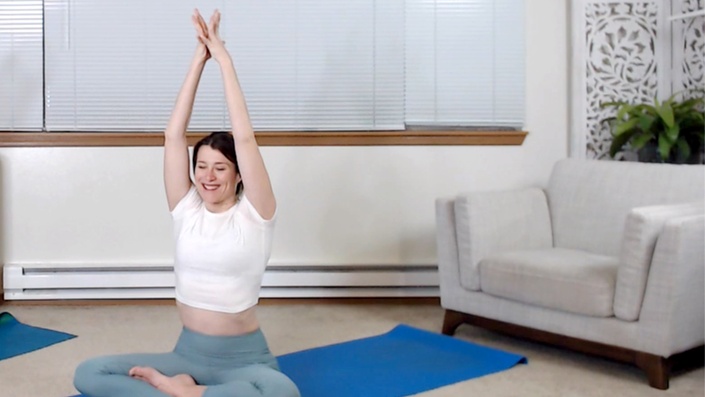 Morning Movement & Meditation Collection
Daily 30 minute morning yoga video lessons to improve energy & happiness
With Month of Mindful Morning Movement, you'll work through releasing the morning fatigue, aches, and general grumpiness within the first few minutes of waking up. In the next 30 days, you'll build habits to start your day energized and happy.

You might even become a morning person! *gasp*
Looking for the live Zoom class? Sign up here.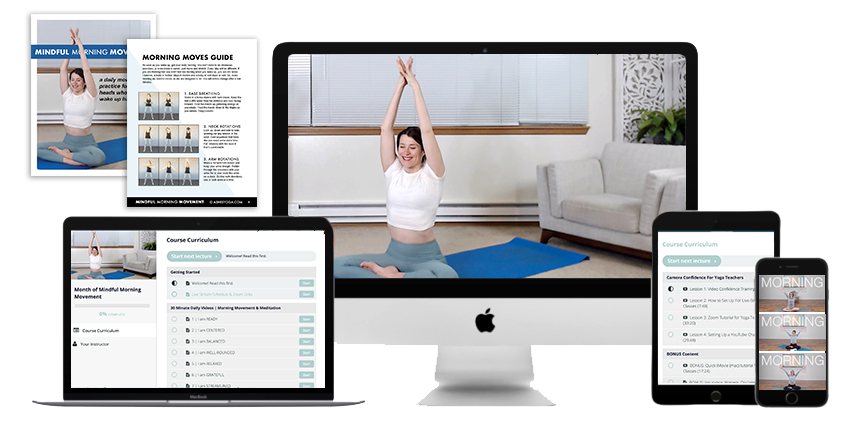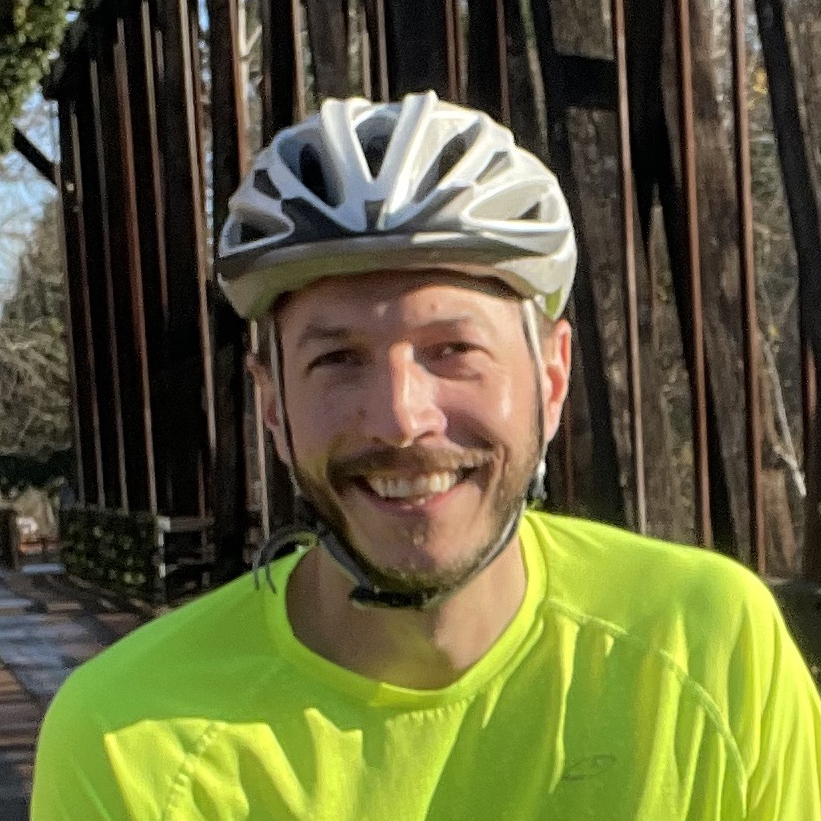 "I've never been great with mornings, but I've noticed a big difference in the way I feel and how clearly I'm able to think as I start my work day."
- Alex M., regular Zoom participant
Does this sound like you?
Your body constantly aches. It could be from your sedentary desk job, or maybe it's the stress of trying to keep the kids on task for virtual learning.

Your "me-time" has become the few minutes you're able to sneak away to the bathroom to scroll on your cell phone for a few minutes.

You often feel rushed and frazzled when starting your day. You hit the snooze button one too many times... again.

You've become dependent on caffeine and sugar to keep you awake and alert. And yet that mid-afternoon crash inevitably occurs. Every day.

The thought of starting an exercise program makes you cringe. You're not quite at "exercise" level yet.

Yoga seems more your pace, but you're not sure how to get started and you don't have a lot of time.
What if there was a way to wake up energized and happier?
What if there was a way to stress less and enjoy life more?
That's exactly why I created this video course, Month of Mindful Morning Movement.
Start your journey to becoming a happier morning person today!
Waking up groggy, stiff and unenthusiastic is not normal.
Right now you're struggling with low energy, stress, and having a reason to wake up in the morning that isn't screaming children.
Imagine looking forward to waking up each day. Imagine getting out of bed feeling refreshed and ready to move your body. Imagine not having to head straight for the coffee pot as soon as you rolled out of bed.
Imagine a more energetic, vibrant and happier YOU!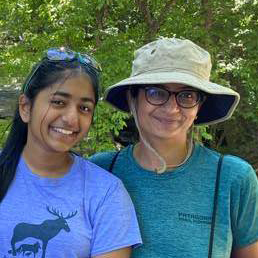 "I have been attending Ashley's M&M sessions for a while now. I absolutely love the format and her easy and happy teaching style. The 30 minute practice gets me moving and grounded for anything that comes my way. I am sure once folks try it they will be a regular like me."
- Puja V., regular Zoom attendee
What's included?
30 daily yoga practice videos, each about 30 minutes.

Mindful Morning Movement PDF guide for the days you can't follow with a video.

Suggested music playlists.

Zoom link to join us live on weekdays at 6:00am PST.
Bonus PDF Downloadables:
Rise from the Ashes 30 Day Challenge Guide

Me-time Morning challenge guide

Goal setting for the new year

Beginner Pose Alignment Guide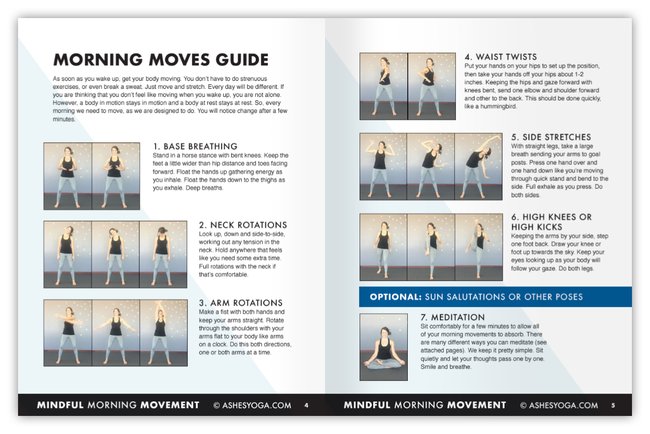 How does it work?
Step 1: Log in to the course platform with your email and password of choice.
Step 2: Choose a lesson based on the affirmation/theme, or simply go in order.
Step 3: Move, flow and meditate with me!
Step 4: Remind yourself of the affirmation throughout your day, and complete any suggested homework/tasks I might have mentioned.
Optional: Play some soft music to enhance your morning practice (suggested playlists included)
Ideally, these lessons are best practiced in the morning, but can be done at any time of the day. Repeat a specific class as often as you'd like, or try a new one each day. You do not have to complete the program within 30 days. I often take the weekends off.
The goal of this program is that this morning practice becomes a daily ritual and something to look forward to. In time, you'll notice a difference between days you do your morning movement & meditation, and the days you take off.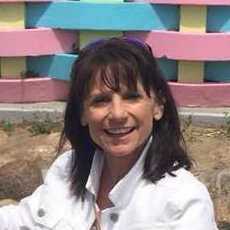 "I have followed and worked with Ashley for most of the year now and she is a delightful and inspiring yoga teacher. I have built a habit around my morning practice with her. As a yoga teacher myself, I believe in positive morning routines and find that movement in the morning is essential. The best quality she brings to her Morning Movement & Meditation class is consistency. It is just the thing that works for me."
- Michele C, regular Zoom participant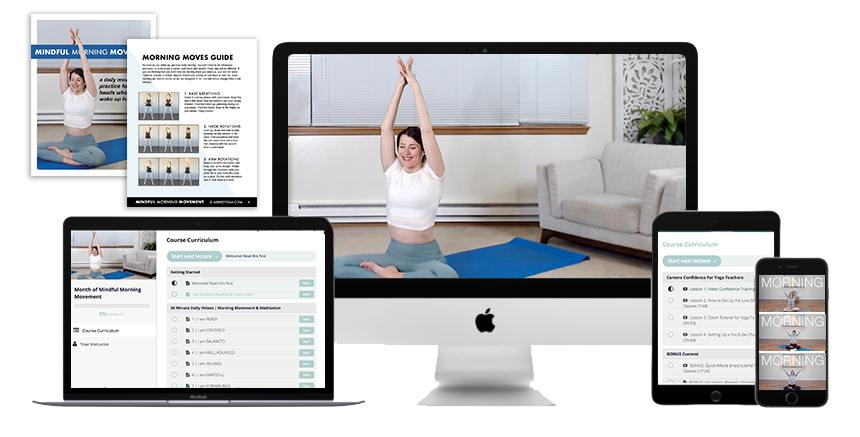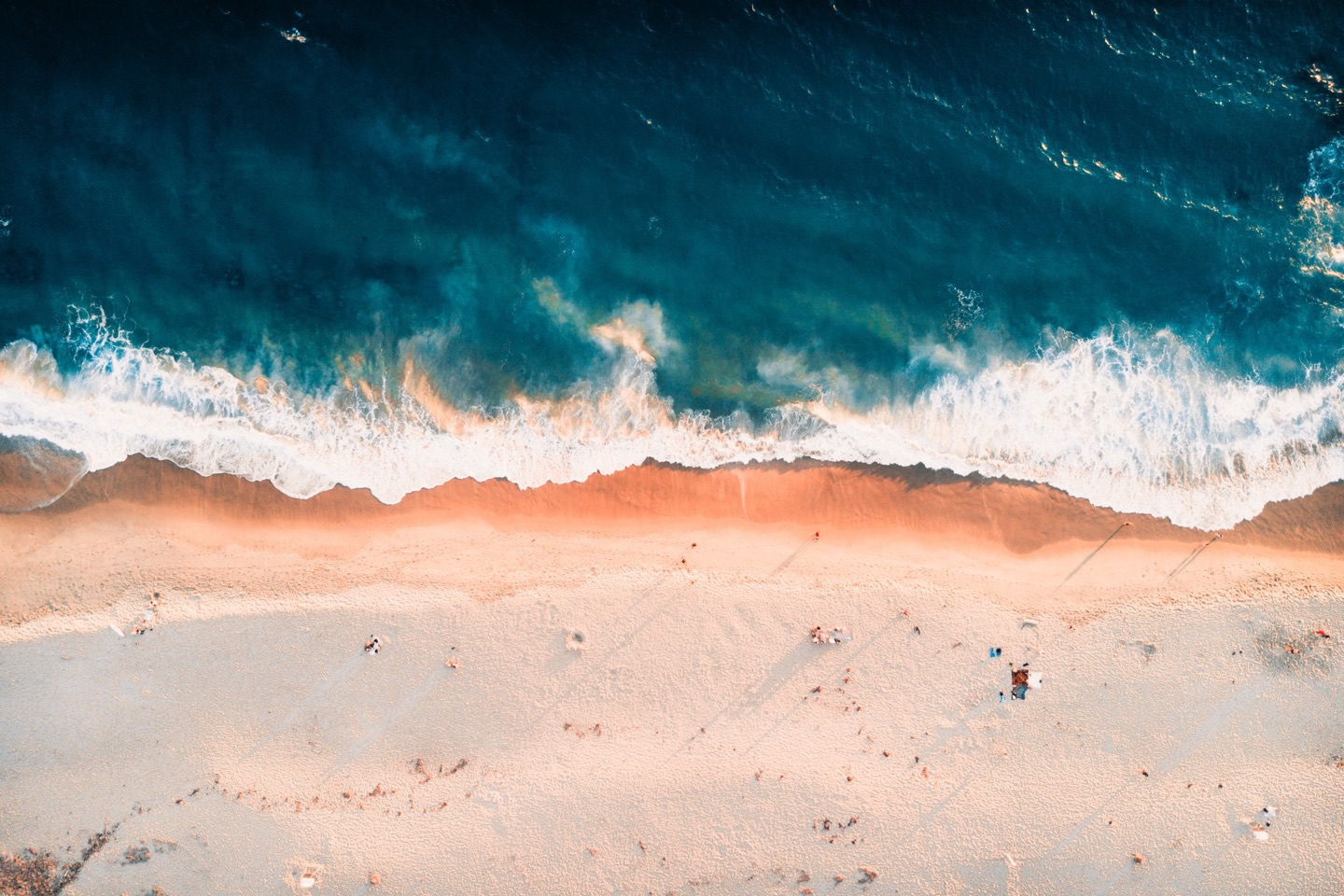 "This is a wonderful opportunity to begin the day. Yes, even though we are all still virtual, Ashley has a relaxing and inviting way over our computers. The title describes the morning start – simple morning yoga warm-up movements, a bit of stretching, bending, twists, even a touch of cardio, getting the body warmed up for the day. The first 20 minutes are spent on yoga and the final time is on the mediation of the day. The meditation/intention for the day is shared at the beginning of class. Like planting a seed, I know what is throughout my practice and ready towards the end of class to meditate over the intention. I really enjoy this part, a new intention for the day: well-being, strive, gratitude, balance, there is always a purpose we need to hear and hopefully practice and share. "
- Donna S., regular Zoom participant
Your Instructor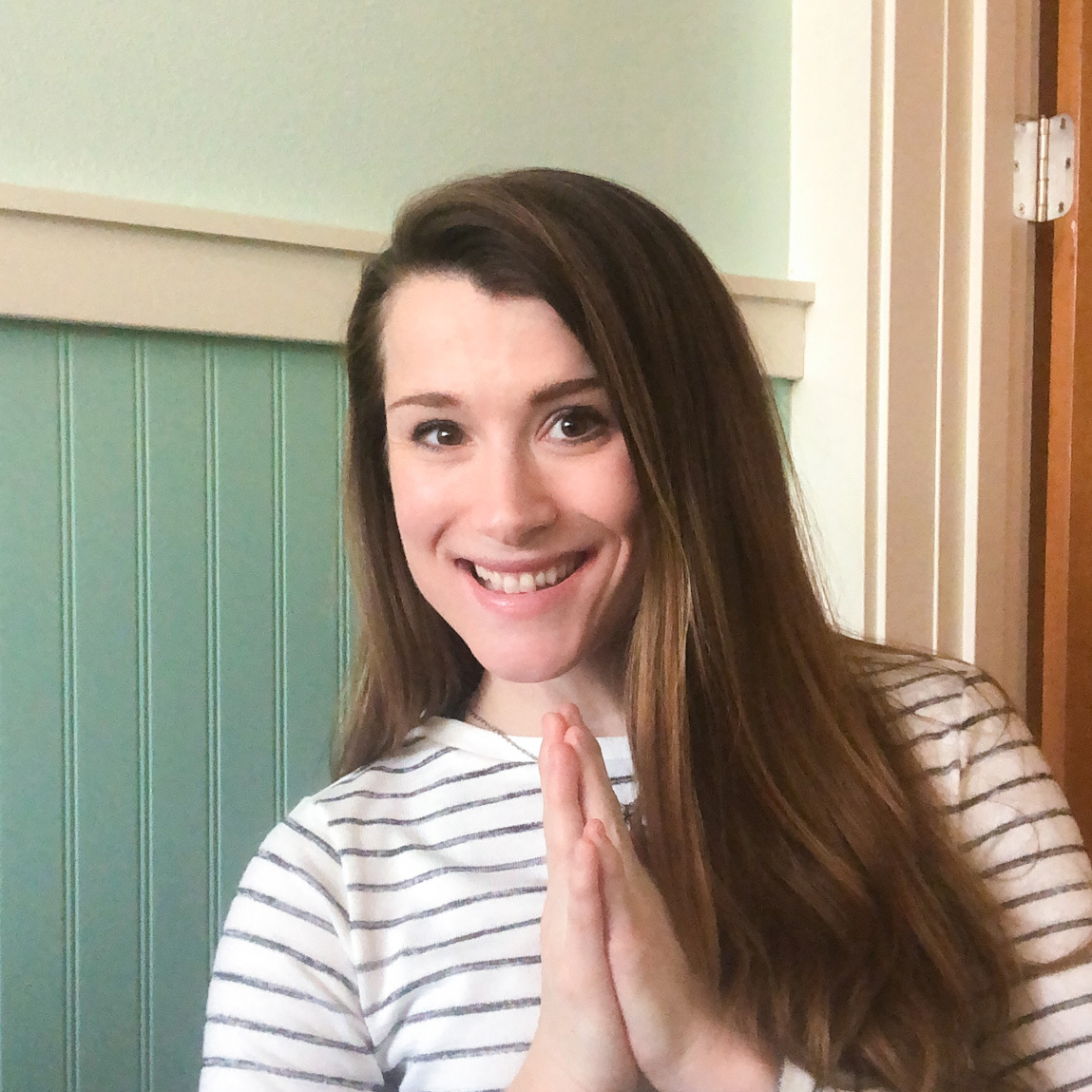 Hi I'm Ashley!
I'm not naturally a morning person. Shocker, I know! But it's true. I, like many others, would rather hit the snooze button for a few more minutes or even, a few more hours.
But I also like to feel good when I'm awake, and I don't want to depend so much on caffeine or substances to keep me awake or numb from discomfort. A few minutes of movement right away in the morning allows me to feel better and to be better.
Nowadays, I LOVE my morning yoga practice and I really love sharing it with others. I'm more patient. My body doesn't ache. I can breathe easier. I make healthier choices. I smile more.
It takes as little as 5 minutes (my classes are 30 minutes), but done consistently over the course of time helps you to become the person that you really want to be.
I'm not talking about "exercising", but rather a simple and basic movement routine.
As your morning movement & meditation teacher, I simplify the practice into 3 phases for your morning movement practice – movement, flow and meditation. It's simple, but powerful. If you want to start feeling better and more energized, joining me for morning yoga is the way to go.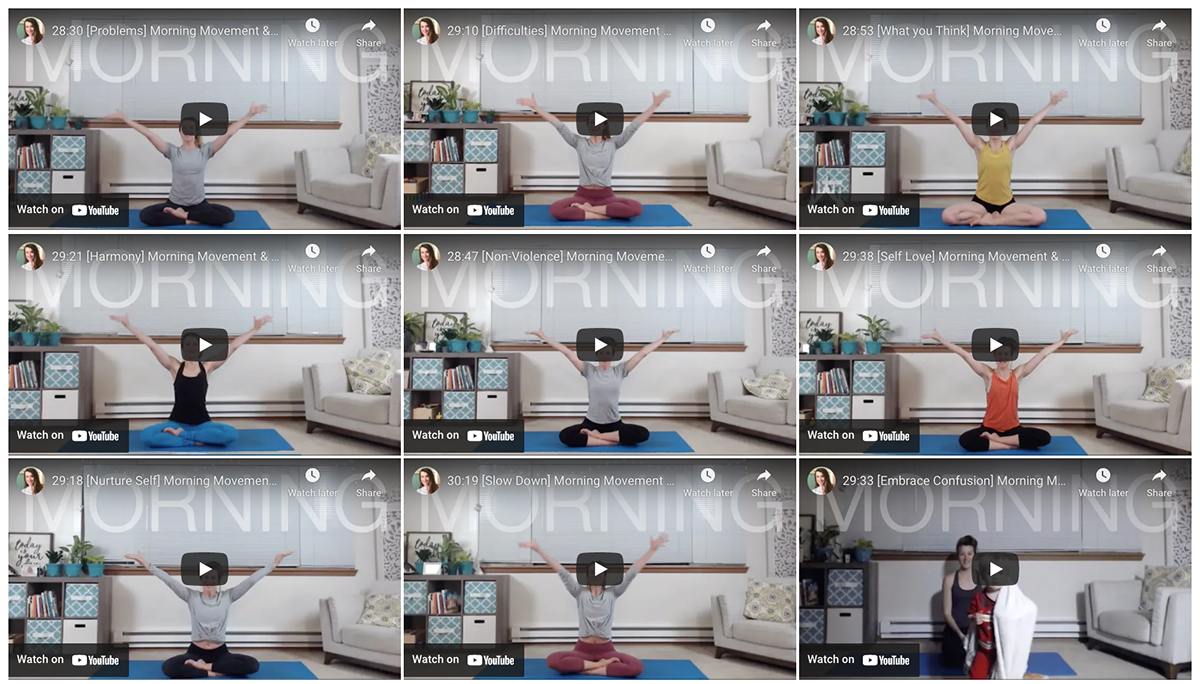 Frequently Asked Questions
When does this course start and finish?
This is a self-paced course that you can start on your own at any time. Once you purchase, you have lifetime access to the course and content.
Is there a refund policy? What if I'm unhappy with the course?
Due to the digital nature and low price point of this program, we do not offer refunds. If your toddler hits the "buy now" button and you really didn't mean to purchase, then please contact us.
Can I download the videos to watch offline?
Most of the videos are unlisted links through YouTube, meaning you'll need internet access. If you need the downloadable files, please contact us and we'll see what we can do to accommodate. All PDF guides and resources are downloadable.
I've never done any kind of yoga before. Is this right me?
Yes! This is a very general and gentle movement practice that does not include advanced postures or techniques. I offer suggested modifications for some poses, but mostly it's a great program for beginners and advanced practitioners alike.
Will this program help me lose weight?
This is not advertised as a weight loss or fitness program. However, weight loss, flexibility and increased strength are all side-effects of moving your body and reducing stress & tension.
When and how can I join you for the live morning movement & meditation classes?
My morning movement & meditation LIVE class is how I captured all of the recordings for this course. I've been teaching this on Zoom every weekday since March 2020. It's at 6:00am Pacific Time (I'm in Washington state) and you can sign up at ashesyogastudio.com to get the Zoom link for each day. On rare occasions, I will cancel or end the class early dependent on the possibility of an early morning toddler wake-up. << This is why the live class is free.
"But Ashley, I don't have 30 minutes every morning."
That's okay! Sometimes I don't, either.
You can do this practice in as little as 5 minutes.
Do you have enough time to listen to the daily affirmation and sit with the theme for 5 minutes?
Yes, you do!
Skip the mindless morning scrolling on your phone and join me for just a few minutes, even if you can't get in the full half hour.

The lessons are segmented into three 10-minute sections:
Intention setting and head-to-toe movements

Sun salutations and yoga flow poses

Meditation
Only have 10 minutes? Do the first 10 minutes and then sit for 30 seconds to 1 minute on your own for a short meditation.
Do you have 15-20 minutes? Skip the middle section and do the first 10 and last 5-10 minutes of meditation.
Have the full 30 minutes? Complete the full practice!
Have even more time? Do the 30 minutes and then move on to a longer seated meditation, time for journalling, or use the morning practice as a warm up before an additional workout.
You DO have the time.
We will make a morning person out of you yet.
Who is this for?
Work from home-bodies. Sitting at a computer in your living room doesn't quite have the same excitement as it did in spring 2020. You might be feeling the adverse effects of the sedentary lifestyle. Start your workday with movement, meditation and positivity. It will help improve your posture and help clear your mind to focus on what's important.
Busy parents. There is no worse way to start your day than with a screaming, needy child in your face. Combat that initial stress by getting up before the kids get up. Yes, it will be hard the first few times. Nothing worthwhile is ever easy. Taking a few minutes to set good intentions and stretch out your body will help you to manage the stress of parenting, and physically keep up with your kids.
Retired and non-schedule-bound people. We tend to fill the time we have with the tasks at hand. If you don't have a set schedule, motivation can often be difficult to achieve. We can easily slip into a lazy life, which isn't that fulfilling. If you do not have a busy schedule, but want something to look forward to, morning movement and meditation might be right for you. Reignite that energy you once had.
Basically... it's for YOU.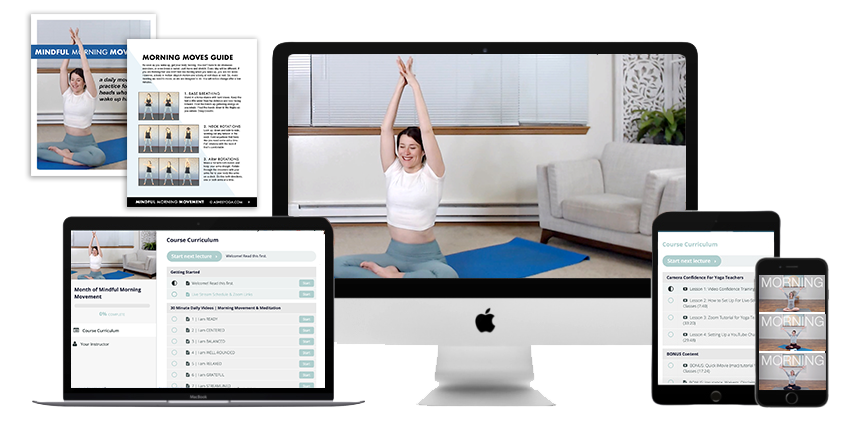 Month of Mindful Morning Movement
30 days to more energy, better focus and a happier life.